26-29 July: INDUCT Research Presentations at Alzheimer's Disease International's 33rd Conference, Chicago, USA by Sophie Gaber (ESR3)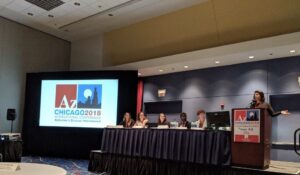 More than 600 people participated in Alzheimer's Disease International's Conference – the longest running international dementia conference. The diverse range of topics reflected the breadth of interests of attendees and technology was a recurring theme. INDUCT –Interdisciplinary Network for Dementia Using Current Technology (Marie Curie Skłodowska project) harnessed the Conference's focus on technology by providing evidence to show how technology can support the lives of people with dementia, their caregivers and families.
INDUCT early stage researchers provided a European-wide, psychosocial perspective on technology and dementia care, including oral presentations from Hannah Christie (Maastricht University) and Sophie Gaber (Karolinska Institutet), and poster presentations by Sara Bartels (Maastricht University) and Kate Shiells (Charles University).
INDUCT findings from the Cognitive Accessibility and Technology Use when aging in home and Society (CACTUS) research group, supervised by Professor Louise Nygård and Dr Camilla Malinowsky, Karolinska Institutet (Sweden), highlighted that whilst there is potential for everyday technologies and innovations to aid participation in activities and places for people with dementia, it may also create new challenges and expectations.
Further Nordic dementia research and enterprise was shared among a global audience through the Nordic Innovation and Solutions in Dementia panel, facilitated by Ludvig Mörnesten (Swedish Care International). There was a call to balance hi-tech, data-driven remote diagnostic approaches offered by Haza Newman (Geras Solutions) with the practicalities of ergonomic, household designs for people with dementia, presented by Britt Monti, representing IKEA – the world's largest furniture company – to improve design and livability for all.
The conference underlined that there is a shortage of dementia data and in the future data may become "more valuable than gold". INDUCT is ideally located to contribute to the knowledge-gap. Companies such as Arjo demonstrated how data can be applied to design equipment to support dementia care. Technological start-ups such as It's Never 2 Late (iN2L), expressed a desire to partner with researchers to bridge the research-care divide.
For further information, please visit the INTERDEM website or contact:
Sophie Gaber (INDUCT ESR3 – Karolinska Institutet)
Email: [email protected]
Twitter/Instagram: @evrydaytechgirl